For successful collaboration, any workplace needs to host regular get-togethers. These after-work events can not only be an effective way of breaking through team goals and bonding with your coworkers, but they also create a relaxed atmosphere and provide the opportunity to have some fun! Whether you're looking for ideas that build productivity or leisure activities that keep everyone engaged, we've got five great suggestions on ensuring your next after-work event is one to remember! From outdoor excursions and creative team-building activities to traditional gaming nights, here are the  top picks on how best to make these gatherings enjoyable yet productive.
Working long hours can be strenuous and often leave us feeling mentally and physically drained. We need to take a break occasionally, even if it's just for an hour or two after work. A great way to relieve stress and get together with colleagues is to plan an event everyone looks forward to every week or month. Whether you are looking for ideas on how your office should unwind, reconnect with each other after a hectic day at the office, or spend more quality time together away from work – this article is sure to have some excellent tips!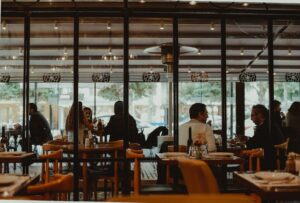 Try out a new restaurant in town 
Trying out a new restaurant in town can be an immensely rewarding experience, allowing you to explore your local area and discover some hidden gems. Check out the best new spots
here.
  A night out at an unfamiliar eatery can liven up a post-work evening, allowing you and your team to switch off the day's office work and enjoy something new. Gather everyone for a laid-back, informal night exploring an unknown city corner, discovering and enjoying cuisine you may never have encountered. Such experiences can spark meaningful conversations about wider topics. 
Host game night – board games, card games, or anything-can provide you and your guests with hours of entertainment.
Game night can be a great way to get your coworkers together after work for fun and relaxation. Hosting one can be inexpensive and requires minimal effort, as all you need is a casual environment, some snacks and drinks, and plenty of game options. If you have enough space, opt for an 'everyone-plays' style game such as Pictionary or charades; if fewer guests are present, try some generally more complex games like Monopoly or Settlers of Catan. Even classics like cards or dominoes provide hours of entertainment. No matter what you choose to play, the game night provides an opportunity to bring comfort and joy to the workplace after a long day.
Organizing a pub night – Take your team out for drinks and socialize in a relaxed atmosphere.
A pub night is perfect for taking your team out for drinks and building strong relationships. This will create a relaxed atmosphere among coworkers, encouraging better communication, happier employees, and a more productive work environment. You can select one of our inviting
pubs on our platform
so you and your team can stay late and enjoy each other's company without worrying about the daily commute. With this in mind, remember to make reservations beforehand, or else you may be waiting at the bar with no guaranteed seat!
Planning an outdoor get together –
Spending time outside together can improve morale and be a good change of pace for most. Bond with your team members and colleagues outside in the nice weather and fresh air. 
Riverside
in Montreal is a great option to get outside and stay entertained.  An outdoor movie night is a great idea for everyone to enjoy the fresh air while socializing. Renting a projector or laptop, you can pick the perfect spot in your backyard or nearby park to set up and start the show. And remember to have fun – a little friendly competition at trivia related to the movie will surely be a hit among employees!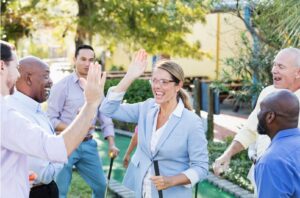 Conclusion: 
After-work events are an excellent way to bond with co-workers and make memories outside the office. Whether planning a picnic in the park, going to a local arcade/bowling alley, organizing a pub night, having a board game night, or setting up outdoor movie night, these activities promote team building and offer respite from the daily grind. Studies have shown that better employee relationships boost morale and ultimately improve productivity. If you're looking for some fun ideas for your team event or after-work get-together, why not plan one of these suggestions – rest assured, you and your colleagues will have lots of fun!