Planning an outdoor summer party can be a lot of fun, but there are a few things you need to keep in mind to make sure it goes off without a hitch
1. Choose a theme for your party – this will help you plan the decorations, food, and activities.
Planning an outdoor summer party can be a fun but daunting task. One of the best ways to start is by deciding on a theme. A theme adds structure to your planning and helps you decide which decorations, food, and activities to include. If you're looking for ideas, consider choosing a theme based on your favorite movie or show, a shared hobby amongst your invitees, or crafting a piece of unique music that your friends will remember for years. Whatever you choose, make sure it fits with the atmosphere of the outdoor summer party and will help create an unforgettable atmosphere for your guests!
2. Send out invitations in advance so your guests can RSVP and plan accordingly.
Sending out your invitations in advance is an easy yet important step to creating a successful and memorable summer party. Taking the time to plan correctly allows your guests the opportunity to RSVP and plan accordingly, decreasing any potential logistical or scheduling headaches. Guests will appreciate the effort it takes to invite them and know when and where this summer celebration will be held. Strategic planning ensures that you and your guests can enjoy a special gathering filled with fun and lasting memories!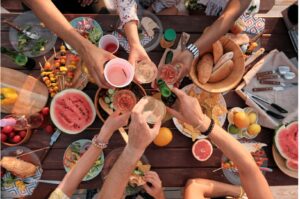 3.Plan the menu – consider whether you want a BBQ, picnic, or potluck-style meal.
Summer parties are even better when the menu is planned to perfection! To start planning, consider whether you want a BBQ feast, picnic-style gathering, or a potluck atmosphere. Barbecues are a great way to please the masses with perfectly cooked burgers, ribs, and steaks. For the more laid-back picnic-style event, enlist some family and friends to bring scrumptious sides from wherever their specialties lie. Or let everyone's eclectic tastes meet at a potluck party where each guest gets their signature dish. Planning the menu can be tricky, but having options ensure there's something for everyone at your outdoor summer party!
4.Make sure you have enough seating for everyone
When it comes to outdoor parties, aside from planning the menu, fun activities, and music, making sure you have enough seating is an essential part of the equation. To ensure all your guests are comfortable and can mingle, rent chairs or set up tables if you don't have enough. Ensuring everyone has somewhere to sit will transform your outdoor party from being just 'good' to something more memorable!
5.Decorate according to your chosen theme – use streamers, balloons, and other fun items.
Planning an outdoor summer party can be a great way to beat the heat, celebrate with friends and family, or bring everyone together for quality time. You must choose the right decorations for your chosen theme to ensure your plans turn out just as you imagined. Streamers and balloons are a must to help carry the theme throughout the area, but remember other fun items like pinwheels, banners, lights, and signs! Feel free to get creative and have some fun with your decorating plans – after all, great memories start with setting the perfect party atmosphere!
6.Set up games and activities for your guests – frisbee, water balloon toss, etc.
If you're planning an outdoor summer party, one of the most important things you can do is set up fun activities for your guests. Pre-packaged games like frisbee and water balloon toss are easy to find and great for keeping everyone entertained and engaged. If you want to get creative, try DIY activities such as scavenger hunts or volleyball tournaments. Your guests will love the added touch, ensuring everyone has an enjoyable time at the party.
Conclusion:
Unleash the ultimate outdoor summer bash with these tips: choose a captivating theme, send invitations in advance, plan a delicious menu, ensure ample seating, decorate creatively, and organize engaging games and activities. Get ready for an unforgettable party that will have your guests raving about the fantastic memories made under the sun!